"Customers usually don't bother about the terms of service!" Think again. Instagram, the popular image sharing service is halved of its active users in just a month's time after changing its TOS.
The one thing that Instagram has definitely given a strong message to everyone that terms of service and copyright issues are not, atleast completely neglected by their loyal customer base. They do care about those long pages of terms when it comes to their own self.
Instagram, sooner after its $1 Billion acquisition by Facebook, raised some eyebrows about the soon to come privacy and terms changes. This fear turned into a reality when Instagram announced through its latest drafted Terms of Service that they could exploit members' photographs for profit – without compensating the owners. This prompted a backlash on Mark Zuckerberg's Facebook, Instagram's owner.
According to app traffic monitoring outfit AppStats, Instagram has lost half of its active users as since the story broke. Daily active users fell from almost 16.3 million to about 7.6 million, stats show.

Instagram has continued to acquire monthly active users, but this may be a sign of the growing smartphone market and inertia built into the system: monthly users, by definition, post less frequently.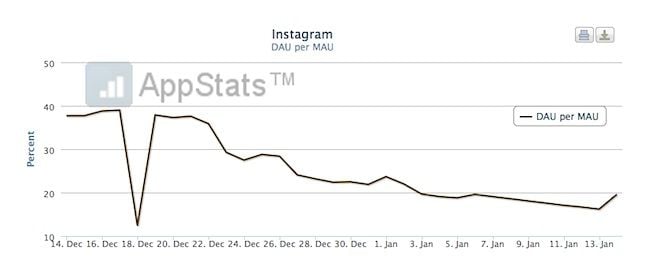 One company who has made sure to profit from Instagram's this major blooper was Flickr, by offering 3 months of pro services for free. Although Instagram have reversed back to their original TOS and apologized to the customers, they won't bother now. Many of the users are believed to take backup of their photos and deleted their Instagram accounts.
What do you think about the importance of customer privacy and copyright issues put forth by Instagram? Share your thoughts and comments below.