Music Hand-picked by people in the form of playlists and browsable according to the user's moods or activity is what some of the best things Songza has to offer.
One of the most fastest growing music streaming service is Songza. The service that started back in 2007 is finally taking the flight to success after its redesign of Android  app.
The new Songza Android and iOS app has a lot to offer when compared to its competitors in Pandora, Last.fm or any other music streaming service. Songza offers a different take on the type of programmed radio experience that Pandora initially made popular. Rather than generate playlists based on specific songs or artists, this app tries to offer up the right selection of tunes for specific activities you might be engaged in. Whether you're looking for mellow tracks to help you unwind on your commute home or high-octane drumbeats for powerlifting at the gym, Songza should have the playlist for you.
While other streaming-radio apps typically start you off with a search bar, Songza starts with its unique Concierge screen. Here, it presents you with six choices of different activities you might be engaged in. Six may not sound like very many, but worry not because these six actually change depending on the current day and time.
Songza asks you with a set of options like Driving, Working, Epic Walking, and so on. If you choose one menu, it will lead to another menu of choices designed to help the app home in on exactly the right playlist.
From the drop-down menu at the top, you can find shortcuts to the Popular and Explore screens. The Popular screen showcases featured playlists, those that are currently trending, and the most popular playlists of all time. Meanwhile, the Explore screen offers up a more traditional browsing experience, as it lets you sift through Genres, Decades, Activities, Culture, and Moods.
According to Songza, all of its playlists are "made by music experts," which I think offers a clear and significant benefit. Since playlists aren't algorithmically programmed, they are more likely to come in varieties that aren't found on other services like Pandora.
Songza is completely free of commercials. This is a major selling point, considering the frequency of annoying audio ads on Spotify and Pandora. There are, however, small display ads on the app, but these can be ignored easily enough.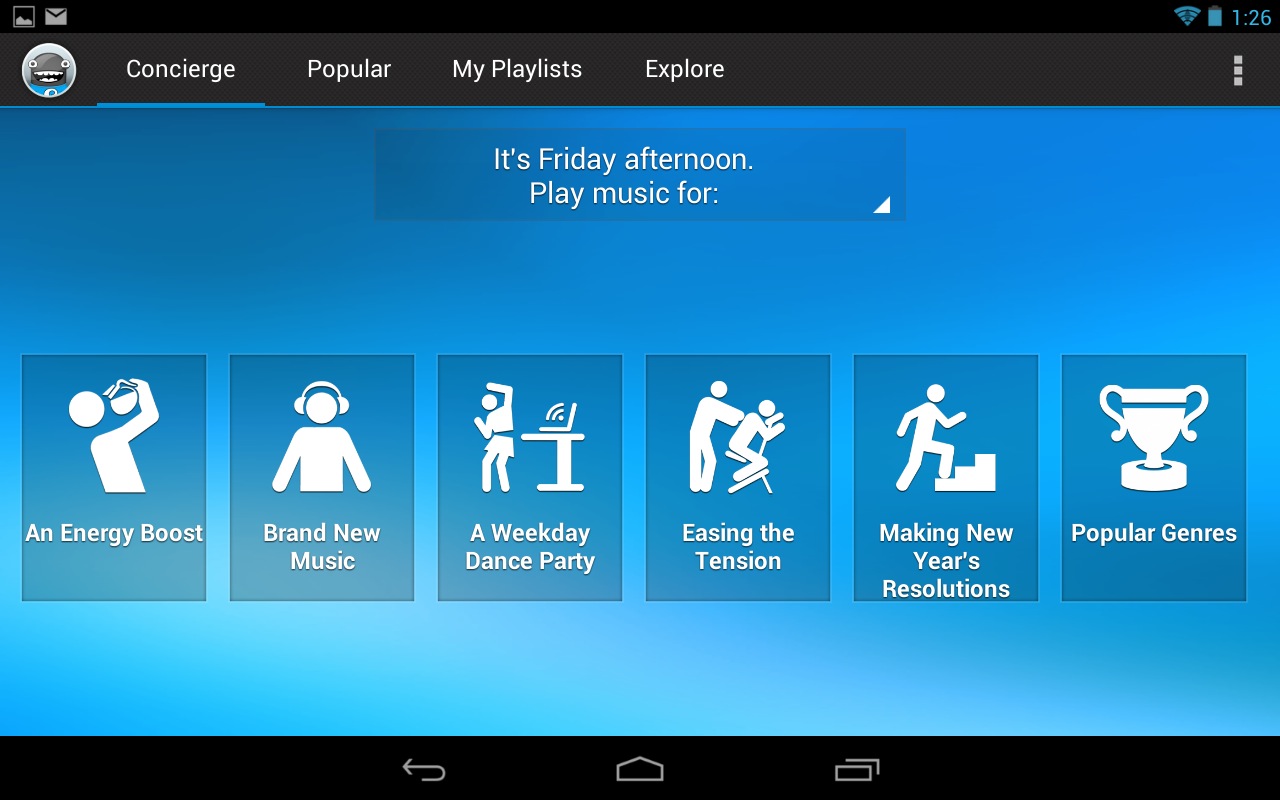 A few bonus features worth mentioning are an integrated Share button for sharing song data with friends and a Shopping Cart button, which leads you to the track on Google Play if it's available.
What do you think of the Playlist maker app according to your mood and activity – Songza? Share your thoughts and comments below.